Michelin Bib Gourmand
2016, 2017, 2018, 2019, 2021
SHI HUI YUAN is proud to be awarded Michelin Bib Gourmand for 5 consecutive years.
1500

Collagen

Every bowl of nourishing Hor Fun contains more than 1500mg of collagen

30

Herbs

More than 30 herbs with health benefits are used in the cooking of our braised sauce

30

Years

Our braised sauce has gone through 30 years of uninterrupted cooking
Food As Medicine
Over 30 herbs are used in the braising sauce to bring health and wellness benefits.
See all herbs &amp their benefits
Replenishes Qi & vital energy
Promotes the production of body fluid
Clears heat

洋参须
AMERICAN GINSENG ROOTLET
See Benefits
Strengthens the spleen & enhances Qi
Nourishes blood & vital energy
Tonifies the lungs

党参
See Benefits
Invigorates the spleen & stomach Qi
Nourishes blood
Calms the mind

红枣
RED DATES
See Benefits
Dispels phlegm & relieves cough
Relaxes spasms & alleviates pain
Harmonizes other herbs

甘草
LIQUORICE ROOT
See Benefits
Clears heat & lubricates lungs
Moistens intestines & unblocks bowels

罗汉果
MONK FRUIT
See Benefits
Enriches the lungs & stomach Yin
Quenches thirst & alleviates cough

玉竹
See Benefits
Promotes digestion
Dispels phlegm
Refreshes mind

茶叶
TEA LEAVES
See Benefits
Regulates flow of Qi
Strengthens the spleen
Rids dampness & reduces phlegm

陈皮
ORANGE PEEL
See Benefits
Warms Yang & dissipates cold
Regulates flow of Qi
Alleviates pain

八角茴香
STAR ANISE
See Benefits
Warms meridians & fortifies Yang
Expels cold & relieves pain
Invigorates the blood & unblocks the Channel

肉桂
CINNAMON BARK
See Benefits
Warms kidneys & reinforces Yang & fertility
Expels cold & alleviates pain
Promotes circulation of Qi

丁香
CLOVE
See Benefits
Improves blood circulation & moves Qi
Expels wind & alleviates pain
川芎
See Benefits
Warms body core & relieves pain
Rids cold & dampness & opens Channels

红枣
SICHUAN PEPPERCORNS
See Benefits
Promotes movement of Qi
Warms spleen
Prevents morning sickness

砂仁
CARDAMON SEED
See Benefits
Resolves phlegm
Soothes spleen & stomach
Promotes digestion

桔饼
CANDIED TANGERINE
See Benefits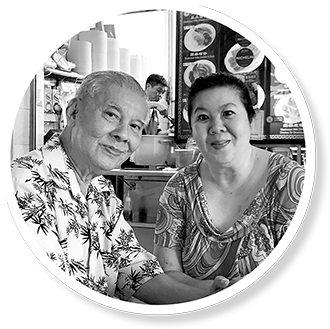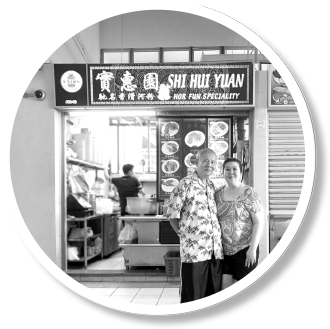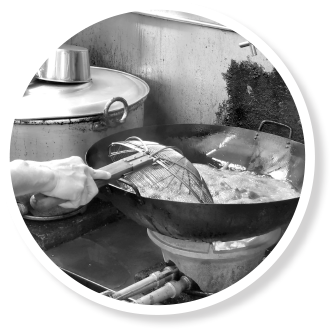 THE BEGINNINGS
From a hawker stall in 1969 to a 5 year consecutive Michelin Bib Gourmand Award winner (2016 – 2021), SHI HUI YUAN has bravely weathered the passage of time. Famed for its collagen-rich gravy and nutrient-loaded herbal braising sauce that has been cooked uninterrupted for the last 30 years, SHI HUI YUAN is a uniquely Singapore-invented Hor Fun. 
Back in the 1960s, Hor Fun was an expensive dish served only in restaurants. SHI HUI YUAN's founders, Mr Fong Pak Thim and his wife, wanted to create their version of Singapore Hor Fun that is both nutritious and affordable for the local community. Hence the name 實惠園 came about.
Passionately, they developed a recipe using over 30 herbs such as Dang Shen, Yang Shen Xu and Luo Han Guo, in line with their Cantonese cooking philosophy of "Food as Medicine". The herb-based braising sauce has been continuously stewed over 30 years with meat and bones from chicken and duck. Each plate of Hor Fun is packed with more than 1500 mg of collagen.
The founders believe that "Good things should always be shared with others". In 2019, SHI HUI YUAN opens a new flagship store at Lau Pa Sat to bring the uniquely Singapore Hor Fun to local residents and tourists.
3 ways to eat Shi Hui Yuan Hor Fun
To relish the full flavour of this famous Singapore Hor Fun, eat it in 3 ways:
#1 Original Way

Eat it as it is! Savour the original goodness of the herbs and collagen by tasting the gravy together with the smooth, silky Hor Fun.

#2 Kicky Way

Spice it up! Dip your meat into the best loved, homestyle chilli sauce to bring the taste to the next level.

#3 Shi Hui Yuan Way

Fully loaded! Drench your Hor Fun with the homestyle chilli sauce to enjoy this perfect blend at maximum kick.